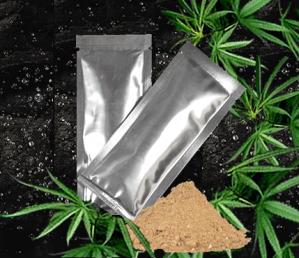 Chocolate Facial Mask
Love and Herbs
$27.95
27.95
purely natural, CBD face nectar

in stock
More Details
Brand: Love and Herbs

Indulge your senses and skin in the heavenly scent of chocolate!

Handmade in small batches from the finest ingredients. Purely natural, a must-have for any skin type. If you are a chocolate lover, you will love this face mask! Besides the amazing chocolate scent, the ingredients are thought to help soothe and rejuvenate tired skin.

Cocoa powder is rich in vitamins, minerals and caffeine which all are thought to benefit the skin.
Specifications
Note: Natural ingredients may discolor over time.

CBD isolate powder

Container: Heat Seal Packet - Silver, 2 inches x 4.75 inches

Love and Herbs handcrafted full-spectrum HempCare products are made with love and care from sustainably sourced ingredients supporting small businesses and 3rd party laboratory tested hemp. No artificial flavors or preservatives. No pesticides, solvents or chemical fertilizers. Color can vary from batch to batch.
Materials/Ingredients
All 100% natural organic ingredients:

CBD isolate powder, cocoa, white kaolin clay, oat flour, yogurt powder.

Note: Natural ingredients may discolor over time. Full-spectrum hemp oil is extracted from the hemp plantís leaves and flowers. Containing all the compounds manufactured by the plant: cannabinoids, terpenes, and flavonoids. The cannabinoids in these oils include less than .3% THC. The use of this product could cause you to fail a drug test.
How to Use
How to Apply: Empty pouch ingredients into a small bowl. Add 3 tablespoons of warm water. (You may also use honey, any non-pore clogging oil such as sweet almond or argan oil, egg whites or milk.) Mix together to make a paste. Spread mask on face avoiding eye area. Sit back and relax until mask dries and hardens. Wash off with warm water (or liquid soap) and pat dry with towel. Store extra mixture in refrigerator.

We encourage our customers to talk to their doctor about hemp to learn more about the benefits.
Shipping Details
Store in a cool, dry place.
Returns
Please note: This is a Final Sale item. There are no returns.
Warranty
Disclaimer: This product is not intended to diagnose, treat, cure, or prevent any disease. This product contains a total delta-9-THC concentration that does not exceed 0.3% on a dry-weight basis. It is the customerís responsibility to know applicable state and local laws in regard to use of this product. The use of this product could cause you to fail a drug test.

Note: Not intended for use by anyone under the age of 18 without adult supervision. Do not use if you are pregnant or nursing. Consult your physician prior to use if you are taking any medications. If any adverse reactions occur, discontinue use and consult your doctor.
Other items you might be interested in: