More Details
Reviews
Other items you might be interested in:
SLR Camera Waterproof Bag More Details
Recommended for: Swimming, Surfing, Kayaking, Snowboarding, and Rafting

Transparent and flexible case allows convenient control for camera buttons as well as perfect visibility for the LCD screen. This waterproof case fits film and digital cameras from Canon, Olympus, Nikon, Samsung, Kodak, Sony, Minolta, Pentax, Fujifilm, HP, Panasonic, Casio and other manufacturers. User friendly product with easy to open and close Roll & Velcro zipper system. Senior PU window for camera lens allow consumers to take clear pictures. The case provides reliable protection not only from the water, but from dust, sand and weather elements. It even floats safely if dropped in the water.

Features:
- Waterproof 20 meters
- Dedicated soft German TPU, tensile strength, can be a buffer, drop resistance protection
- Waterproof, dust, sand, snow and wind proof
- Allows you to comfortably operate the camera functions
- Transparent design for easy to use
- Three airtight seals
- No need to worry about falling into the water, it will float
- Reliable double seal closing system with waterproof zipper with roll & velcro opening

Technical Details:
1. Material: Thermoplastic Polyurethane
2. Size: 18cm (L) X 26cm (W) x 21cm (H)
3. Maximum length of lens: 10.2 cm

Package:
1 x Waterproof case bag
1 x Neck lanyard
1 x Clean cloth
1 x Installation manual

Note: The cameras in the pictures are just for showing. They are not included in this listing.
SLR Camera Waterproof Bag Reviews
SLR Camera Waterproof Bag Other items you might be interested in: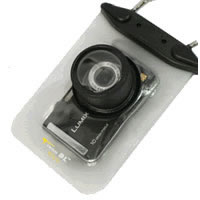 Best Sellers:

Waterproof Map Bag
Waterproof Map Bag
1
Average rating:
100% Watertight - so your map will always be dry - and you will be safe!
Reg. Price $11.99
$6.99 On Sale!

Copyright © Trend-Bazaar.com. All rights reserved.