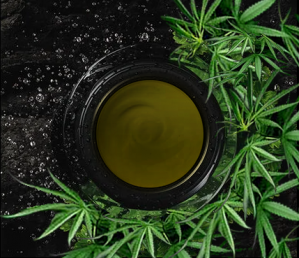 Doobie Serum
Love and Herbs
$74.39
74.39
purely natural, great for most skin types

check back, out of stock
More Details
Brand: Love and Herbs

Purely natural. Great for most skin aliments and most rashes. This all natural earthy hemp aroma oil may be a bit different than what youíre used to using. The herb and oil are ideal for absorbing into your skin, but may take a second longer to soak in.

The anti-inflammatory properties in this serum are perfect for all varieties of skin, from young, to old, to dry, to oily. Giving your skin a radiance boost!
Specifications
Doobie Serum has a natural earthy hemp aroma. Note: Natural ingredients may discolor over time.

Container: 2 oz Glass AMBER Cream Jar

CBD: 770mg

Love and Herbs handcrafted full-spectrum HempCare products are made with love and care from sustainably sourced ingredients supporting small businesses and 3rd party laboratory tested hemp. No artificial flavors or preservatives. No pesticides, solvents or chemical fertilizers. Color can vary from batch to batch.
Materials/Ingredients
All 100% Natural Organic Ingredients.

Full-spectrum hemp extract (3rd party laboratory tested organic private reserve flower) & organic unrefined virgin coconut oil - food grade.

Full-spectrum hemp oil is extracted from the hemp plantís leaves and flowers. Containing all the compounds manufactured by the plant: cannabinoids, terpenes, and flavonoids. The cannabinoids in these oils include less than .3% THC. The use of this product could cause you to fail a drug test.
How to Use
How to Apply: A unique silk texture, a transforming balm to oil, that melts with the skin, for a soft touch finish. Apply topically, as needed, to areas of attention.

We also recommend Doobie Serum for making your own hemp cosmetics or lotions.

We encourage our customers to talk to their doctor about hemp to learn more about the benefits.
Shipping Details
Please refrigerator before opening upon arrival. You may also store your organic infusion in a refrigerator to guarantee a longer shelf life. Infusion melts at temperatures greater than 75 degrees.
Returns
Please note: This is a Final Sale item. There are no returns.
Warranty
Disclaimer: This product is not intended to diagnose, treat, cure, or prevent any disease. This product contains a total delta-9-THC concentration that does not exceed 0.3% on a dry-weight basis. It is the customerís responsibility to know applicable state and local laws in regard to use of this product. The use of this product could cause you to fail a drug test.

Note: Not intended for use by anyone under the age of 18 without adult supervision. Do not use if you are pregnant or nursing. Consult your physician prior to use if you are taking any medications. If any adverse reactions occur, discontinue use and consult your doctor.
Other items you might be interested in:
Reviews
Featured positive reviews:

Doobie Serum
09/24/2020
Product is suitable for my sensitive skin. It makes my skin glow and feel so soft. The product worked great on a burn I had on my arm from the oven, no scarring. The scent is unique but does not linger on the skin long.
Write a review