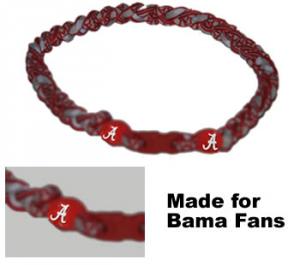 3 Rope Tornado Titanium Necklace
(Alabama Crimson Tide)
Custom
$14.99
$4.99
4.99
More Details
Alabama Crimson Tide

Show your Bama pride with this three strand twisted tornado style titanium sport necklace. The Alabama twisted titanium necklace contains a mixture of titanium and germanium mirco-orbs in the rubber core for added strength.

Product Features

Three Titanium Necklaces twisted together to form one necklace.

Soft outer fabric
Coated with Aqua-Titanium
Enhancement of athletic abilities
Titanium is a safe, allergy free metal that realigns the bioelectric current in your body
Quickly relieve pain and stress

Specification:

Size: 18 inch and 22 inch

Package Content:

1 x Necklace
Please note: clasp is a brighter red, please do not order if this is an issue.
Other items you might be interested in: