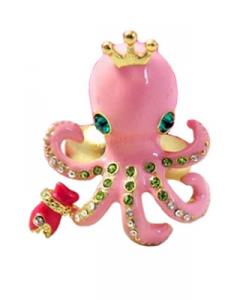 Betsey Johnson Octopus Stretch Ring
Betsey Johnson
$45.00
45.00
More Details
A sparkly-eyed octopus grips a tiny fish in one bejeweled tentacle, comprising a playful handcrafted statement ring.

Brand: Betsey Johnson

- Style: Stretch Ring
- "Betsey Johnson" signed on backside of octopus
- Gold-tone base metal, czech stones and epoxy
- Approximately 1.5" wide x 1.5" long
- Adjustable ring comfortably fits sizes 7-9

Package: Simple OPP bag


Products are provided by a carefully chosen supplier, rather than from the brand itself. The brand does not endorse and is not affiliated with this site.
Other items you might be interested in: