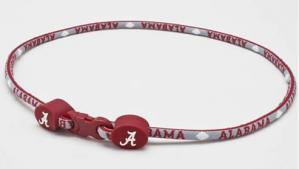 College Team Titanium Sport Necklaces
Titanium Core Sport
$14.99
$5.99
5.99
More Details
SHOW YOUR COLLEGE TEAM SPIRIT WITH THIS NEW NECKLACE TODAY!

College Teams:
- Alabama Crimson Tide
- Auburn Tigers 18" & 21"
- Clemson Tigers
- Florida Gators
- Florida State Seminoles
- Georgia Bulldogs 18" & 21"
- Georgia Tech
- Indiana Hoosiers
- Kentucky Wildcats 18" & 21"
- LSU Tigers 18" & 21"
- Miami Hurricane
- Michigan State Spartans
- Michigan Wolverines
- Notre Dame Fighting Irish
- North Carolina Tar Heels
- Ohio State Buckeyes
- Ole Miss Rebels
- Oregon Ducks
- South Carolina Gamecocks
- Tennessee Volunteers 18" & 21"
- Texas Longhorns
- USC Trojans

Perfect for anyone with neck and shoulder pain, the Titanium necklace is an instant and easy way to make your neck and shoulders feel great. Enhanced with titanium, it increases your blood circulation and relaxes your muscles. Titanium is a safe, allergy free metal that realigns the bio-electric current in your body.


Size: 18 inch is ONLY the Auburn Tigers, Georgia Bulldogs, Kentucky Wildcats, LSU Tigers and Tennessee Volunteers
Size: 21 inch
Weight:0.08 kg

Package Content: 1 x Necklace


Products are provided by a carefully chosen supplier, rather than from the brand itself. The brand does not endorse and is not affiliated with this site.
Other items you might be interested in:
Reviews
Featured positive reviews:
Good product
08/22/2023
Good product and worth the price. Service was very good. Shipped quickly and received within a week. Thank you
Write a review