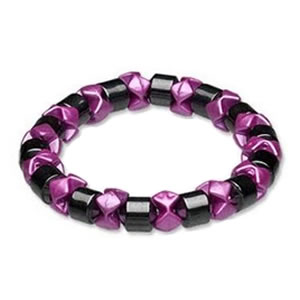 Ladies Hematite Pink Black Pearl Magnetic Stretch Health Bracelet
Private Label
$12.97
$4.99
4.99
More Details
A healthy alternative method of pain relief that is both fashionable and effective. This is a great magnetic starter bracelet to test to see if magnetic therapy will work with your body chemistry.

Features
Magnetic health bracelet

This fashionable bracelet is crafted from geometric beads of real hematite stone. The finish is excellent and will definitely give you the best value for your money. It has magnet panels which are believed to provide Therapeutic Healing which fundamentally improves Blood Circulation.

- 600+ Gauss magnetic panels on band
- Stretchable; one size fits all
- Size: 2 1/2" diameter x 1/2" thick

Package: 1 Bracelet

Products are provided by a carefully chosen supplier, rather than from the brand itself. The brand does not endorse and is not affiliated with this site.
Other items you might be interested in: