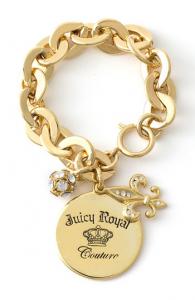 JUICY COUTURE Fleur de Lis Charm Bracelet
Juicy Couture
$98.00
98.00
More Details
Sorry, we are sold out.

Chunky bracelet with a signature Juicy disc and two charms adorned with sparkling glass.

100% Authentic Guaranteed!

Brand: Juicy Couture

- Retail price: $98
- Gold-tone charm link bracelet
- Features large disc charm with "Juicy Royal Couture" engraved on one side with a Fleur de Lis charm and Crystal Ball charm..
- Large clasp closure
- Includes hard case
- Nickel and lead free

Material: Gold tone-plated brass / glass
Approx. measurements: length 7 3/8"
Approx. disc dimensions: 1 1/2" x 1 5/8"
Approx. charm dimensions: flower: 1" x 1"; ball 1/2" x 5/8"

Package: JUICY COUTURE designer box


Products are provided by a carefully chosen supplier, rather than from the brand itself. The brand does not endorse and is not affiliated with this site.
Other items you might be interested in: