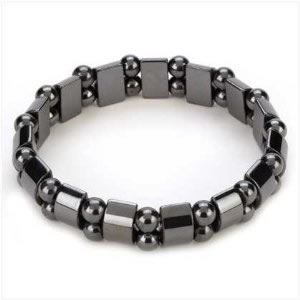 Ladies Hematite Black Pearl Magnetic Stretch Health Bracelet
Private Label
$19.97
$4.99
4.99
More Details
A healthy alternative method of pain relief that is both fashionable and effective. This is a great magnetic starter bracelet to test to see if magnetic therapy will work with your body chemistry.



Features
Magnetic health bracelet

This fashionable bracelet is crafted from geometric beads of real hematite stone. The finish is excellent and will definitely give you the best value for your money. It has magnet panels which are believed to provide Therapeutic Healing which fundamentally improves Blood Circulation.

- 600+ Gauss magnetic panels on band
- Stretchable; one size fits all
- Size: 2 1/2" diameter x 1/2" thick

Package: 1 Bracelet

Products are provided by a carefully chosen supplier, rather than from the brand itself. The brand does not endorse and is not affiliated with this site.
Other items you might be interested in:
Reviews
Featured positive reviews:
Loyal Customer
01/18/2013
I purchased these to assist with my arthritis pain in almost every joint. These magnetic bracelets have really helped me and I am a huge fan of magnet therapy. I wear the men's Hematite bracelet on my ankles. I have purchased all my magnet therapy items from this company and I have never been disappointed with any of my orders. Their shipping is SUPER fast and every item is packaged with care. When it comes to my health jewelry, I am serious and this is the only place I will shop now. They have even assisted me with several items I was searching for that were not listed on their site and found them especially for me. It is so hard to find a company that cares more about your health and well being than making money -- their customer service cannot be beat. Thanks again, Trend-Bazaar! Your loyal customer, Ellen.
Write a review