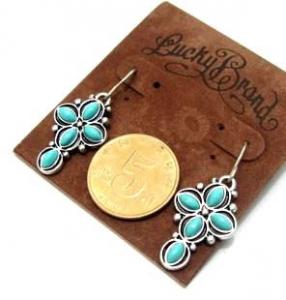 Lucky Brand Turquoise Cross Flower Earrings
Lucky Brand
$32.00
32.00
More Details
Sorry, we are sold out.

Pear-shaped, imitation turquoise arranged in a cross at the center of the silver-tone earrings.

Brand: Lucky Brand

- Style: Drop Earrings
- Material: Metal
- Color: Silver-tone
- Stone Color: Turquoise
- Stone: Imitation Turquoise
- Measures approximately: 1-3/4"L x 1"W
- Shepherd's hook

Package: Simple OPP bag


Products are provided by a carefully chosen supplier, rather than from the brand itself. The brand does not endorse and is not affiliated with this site.
Other items you might be interested in: