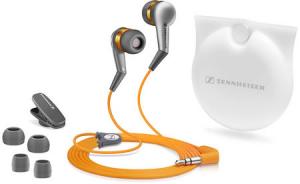 Sennheiser CX380 Sport Series II Earbuds
Sennheiser
$37.00
$19.99
19.99
More Details
Sorry, we are sold out.

The CX380 In Ear Canal Mini Speakers deliver massive sound despite their small size. The sweat proof coating wicks moisture away enhancing fit and durability. They have a noise isolating design that eliminates noise from the environment. The different ear adapters guarantee a custom fit. They are small, medium and large rubber cushions that are included along with a special carrying bag that eliminate tangles and fits in to any gym, workout or hand bag.

- High-performance dynamic driver systems for powerful, bass-driven stereo sound
- Personalized fit in the ear canals due to ergonomic design and different sizes of ear adapters
- Cable clip and carrying pouch included for convenient handling and storage
- Rugged Design Sweat and Water Resistant
- Optimized for MP3, iPod, iPhone, CD players and portable gaming systems

Technical Details

- Brand Name: Sennheiser
- Model: CX380
- Color Name: Silver
- Headphones Form Factor: In-ear ear-bud
- Headphones Technology: Binaural



Products are provided by a carefully chosen supplier, rather than from the brand itself. The brand does not endorse and is not affiliated with this site.
Other items you might be interested in:
Reviews
Featured positive reviews:

Earbuds
12/13/2013
Love them for everyday use and for the gym, so glad I tried them out. :)
Write a review