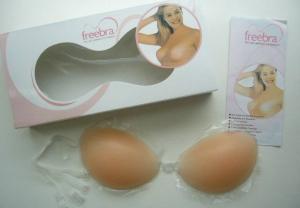 Strapless Invisible Silicone Adhesive FreeBra
FreeBra
$24.99
$9.99
9.99
More Details
Sorry, we are sold out.

Silicone Free Bra

1. Made from Hypoalergenic - Medical grade silicone
2. Self-adhesive bra cups
3. Strapless, without side and back extension
4. Soft feeling
5. Uplift breasts and enhance cleavage
6. Invisible, perfect to be worn under backless, halter or evening dresses
7. Easy to wash, reusable
8. Four sizes for choice: A, B, C and D

The most charming parts of woman`s figure should be the alluring beautiful shoulder and pretty back, but the traditional strap bra destroys all these. Now, the silicone bra is able to solve this problem easily. Without the bondage of metal wire, straps and back clasps, girls can display freely those beautiful dresses which show off your charm.

Soft silicone material, self-adhesive bra cup, adheres to the bosom naturally and closely and will not fall off, instead it becomes a part of the body. Since you can hardly feel its existence, you can do whatever you like. Front clasp bra cup can create alluring effect of the cleavage according to needs and could also prop the bosom and make the curves more charming and alluring.

Package Content:
1x Silicone Free Bra
Other items you might be interested in:
Reviews
Featured positive reviews:
Free Bra
01/12/2013
I LOVE IT. You don't even feel it while you are wearing it, comfortable and natural! Easy to put on, and they stay on well. For under 10 bucks you can't go wrong,
FreeBra
03/28/2013
Excellent! Bra looks and works exactly like on the picture.
Write a review