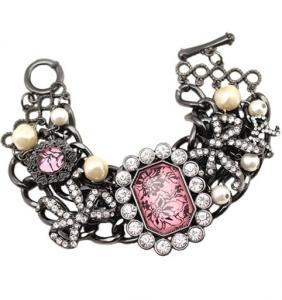 Sumni Charm Toggle Bracelet
Sumni
$78.99
78.99
More Details
Sassy charms and faux pearls detail a whimsical bracelet.

100% Authentic Guaranteed!

Brand: Sumni

- Bracelet
- Features multi-charm design with bow, pearl, and crystal detail
- Oval link chain design
- Toggle closure

Material: Gunmetal-plated base metal (assorted metal alloys)
Approx. measurements: length 7.5", width 1.5"

Package: Box

Products are provided by a carefully chosen supplier, rather than from the brand itself. The brand does not endorse and is not affiliated with this site.
Other items you might be interested in:
Reviews
Featured positive reviews:
Priceless!
10/24/2012
Photo does not come close to doing this bracelet justice. I'd pay more because it makes me feel flawless. One day I feel like a rock star wearing it…the next I feel like a princess. I ALWAYS get at least 3 or 4 people asking where I got it. I admit sometimes I don't want to say because I want to keep this website all to myself but I can't stop myself from bragging about the prices and especially the customer service. You can even tell they take time & care packing your order. I love merchandise, service, and prices! This bracelet is a must have.
Write a review