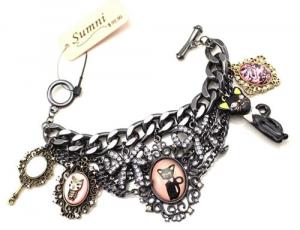 Sumni Lucky Black Cat Charm Bracelet
Sumni
$99.99
$58.99
58.99
More Details
Sassy charms and rhinestones detail a whimsical bracelet.

100% Authentic Guaranteed!

Brand: Sumni

- Bracelet
- Features multi-charm drop multi-chain design with bow, owl, cat and crystal detail
- Oval link chain design
- Toggle closure

Material: Gunmetal-plated base metal (assorted metal alloys)
Approx. measurements: length 7.5", drop charm 2"

Package: Box

Products are provided by a carefully chosen supplier, rather than from the brand itself. The brand does not endorse and is not affiliated with this site.
Other items you might be interested in: