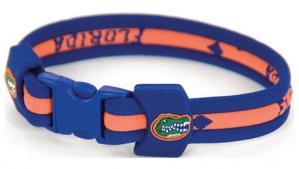 Eagles Wings Florida Gators Titanium Sport Bracelet
Eagles Wings
$25.00
$5.99
5.99
More Details
SHOW YOUR TEAM SPIRIT WITH THIS NEW BRACELET TODAY!

Florida Gators Titanium Sport Bracelet

Brand: Eagles Wings

This bracelet contains a mixture of titanium and germanium micro-orbs in a silicone core. A growing number of athletes are wearing titanium laced products for increased performance due to the energy that is emitted that is effective in controlling the flow of bio-electric current. It has been claimed that this can improve blood circulation, relax nerves and muscles, relieve joint and muscle pain, reduce fatigue, and help recover more quickly. Each bracelet has a woven nylon shell which is decorated in official team colors and logos. Officially licensed.

Size: M (7.5in or 19 cm), L (8.5in or 22 cm)

Material: Titanium germanium
Content: 1 x Bracelet in package

Products are provided by a carefully chosen supplier, rather than from the brand itself. The brand does not endorse and is not affiliated with this site.
Other items you might be interested in: