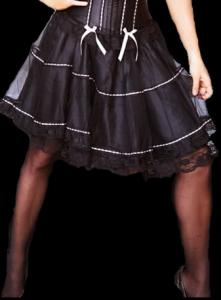 Black Lace Mini Skirt
Private Label
$29.99
$6.99
6.99
More Details
Black Lace Mini Skirt

Size: M
Waist: 64-71(cm)
Hip: 91-99(cm)

- Brand: Private Label
- Lace Mini skirt
- Satin lined
- Dramatic pleated lace overlay
- Fully lined

Material: 90% Polyester, 10% Spandex
Approx. measurements (size M): waist to hem 17"
Care: Hand wash cold

Note: Belt not included



Products are provided by a carefully chosen supplier, rather than from the brand itself. The brand does not endorse and is not affiliated with this site.
Other items you might be interested in: