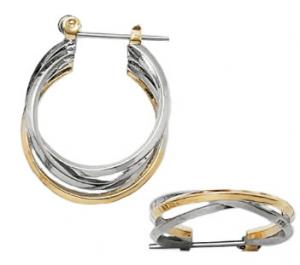 Hoop Earrings in Silver and Gold
Private Label
$36.00
$21.99
21.99
More Details
Sorry, we are sold out.

These hoop earrings will coordinate so well with all of your other jewelry. Interconnecting circles of polished gold and silver form a stationary hoop.

Brand: Private Label

- Style: Pierced Snap-bar Earrings
- Color: Gold-tone and Silver-tone

Package: Simple OPP bag


Products are provided by a carefully chosen supplier, rather than from the brand itself. The brand does not endorse and is not affiliated with this site.
Other items you might be interested in:
Reviews
Featured positive reviews:
Perfect Pair
11/15/2012
I love the perfect pair...
Write a review