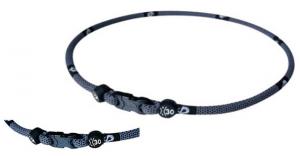 Phiten Japanese RAKUWA Titanium Necklace X30
Classic (Black Checkered)
Phiten
$9.99
$4.99
4.99
More Details
Perfect for anyone with neck and shoulder pain, the Titanium necklace is an instant and easy way to make your neck and shoulders feel great. Enhanced with titanium, it increases your blood circulation and relaxes your muscles. Titanium is a safe, allergy free metal that realigns the bio-electric current in your body.

Main Feature:

Condition: Brand new
Coated with Aqua-Titanium
Phiten X30 Checkered / Diamond necklaces are 30 times more concentrated than regular Phiten necklaces for increased effectiveness.
Help to promote relaxation and reduce stress
Titanium exclusive processes increase cell efficiency, thereby enhancing circulation, promoting relaxation

Specification:

Brand: Phiten
Size: 55 cm

Package Content:

1 x Necklace

Products are provided by a carefully chosen supplier, rather than from the brand itself. The brand does not endorse and is not affiliated with this site.
Other items you might be interested in: