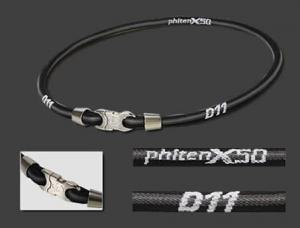 Phiten Japanese RAKUWA Titanium Necklace X50 D11
(Black)
Phiten
$9.99
$4.99
4.99
More Details
Perfect for anyone with neck and shoulder pain, the Titanium necklace is an instant and easy way to make your neck and shoulders feel great. Enhanced with titanium, it increases your blood circulation and relaxes your muscles. Titanium is a safe, allergy free metal that realigns the bio-electric current in your body.

Main Feature:

Condition: Brand new
Front: Nylon 100 percentage
Reverse: Cotton 65 percentage, Polyester 35 percentage
Middle layer: Silicone imbedded with Carbonized Titanium

Specification:

Brand: Phiten
Size: 50 cm

Package Content:

1 x Necklace (no packaging, if this is a concern do NOT order)

Products are provided by a carefully chosen supplier, rather than from the brand itself. The brand does not endorse and is not affiliated with this site.
Other items you might be interested in:
Reviews
Featured positive reviews:
THE BEST
09/23/2012
I was searching the internet for some sport necklaces, if you do a google search you can not find anything under 25.00 and most of them are for women not many for unisex or men. I came across Trend Bazaar and have bookmarked them ever since. EVERYONE gives me great comments and enquires about it. It is Black and the latch is totally cool. It does not feel like anything is on like some others do, and its just the added sporty cool look I was looking for and for 10.00! The people at TB are great too, very nice.
Nicer than the expensive ones!
10/07/2016
I just received this item so I'm not sure how it will look 30, 60 or 6 months from now. However, it looks great and feels as good as the Phiten USA necklaces but at a fraction of the price. This necklace measures 19" from end to end. I wish they made this in more colors (white, brown, etc.) or I would order more of them.
Write a review