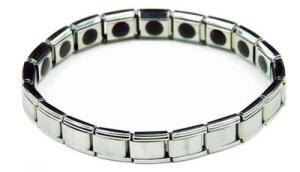 Ladies Germanium Health Bracelet
Private Label
$37.95
$5.99
5.99
More Details
Made of Titanium and contains 20 FIR Germanium stones

- Size: long (20cm) wide (.9cm)
- Stretchable; one size fits all
- Titanium is a rust proof metal that can assist with balancing the bio-energy in the body which can assist with reducing the negative effects of EMF exposure.

The concept behind germanium health bracelets is to restore a balance to the Magnetic Field around the individual. Purportedly, exposure to a number of devices, such as cell phones and other forms of wireless technology degrade this field.

Germanium health bracelets are equipped with both a positive and negative pole that works to counteract the imbalance created by emissions from these sources, and thus reduce the harmful effects of modern living. Scalar energy is a natural good energy & doesn't have any side effect.

The scalar energy from the bracelet works outwardly and within the body. Outwardly scalar energy enhances the body's bio-field. Inwardly it works to facilitate cell permeability and thereby enhances the many physiological functions of the cells in the body.

Germanium bracelets are also suggested to help with a number of ailments. Blood circulation & improve red blood cell function within the body as a result of their positive ion removal ability. They also may reduce pain and stiffness in the body, especially in the hands, back, shoulders & neck areas while boosting immunity and metabolism as well.

While there is no solid body of scientific evidence that germanium health bracelets actually work, there is a wide range of testimonials made by persons who wear the devices.

NOTE: Please contact us if you wish to order more as we offer bulk discounts on larger orders!

Package: 1 Bracelet

Products are provided by a carefully chosen supplier, rather than from the brand itself. The brand does not endorse and is not affiliated with this site.
Other items you might be interested in: