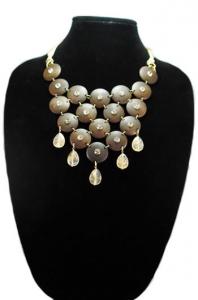 Wooden Boho Bib Necklace
$38.99
$9.99
9.99
More Details
A great necklace for any simple outfit. Take your outfit from casual to chic with this ultra-feminine necklace. Wear it long, or wear it short!

- Features wood and crystals with a ribbon closure
- Self tie closure
- Handmade

Approx. measurements: 18.5" of ribbon on each side, 7.5" length

Note: Delicately handcrafted, slight variations make every piece unique and beautiful.

Package: Simple OPP bag


Products are provided by a carefully chosen supplier, rather than from the brand itself. The brand does not endorse and is not affiliated with this site.
Other items you might be interested in: