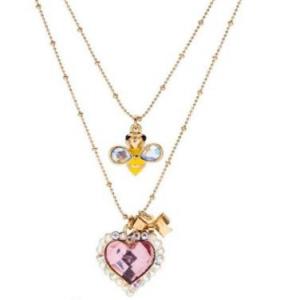 Secret Garden Heart Bee 2 Row Necklace
BETSEY JOHNSON
$6.99
6.99
More Details
Your friends will be buzzing over how cute this fun necklace is!

- Gold-tone with rhinestones and enamel
- Chain Circumference: 16 in
- Adjuster Length: 2 1⁄2 in
- Pendant Height: 1 in
- Pendant Width: 1 in
- Cascading Length: 2 1⁄2 in
- Cascading Width: 3 in


Please Note: This is NOT Betsy Johnson, if this is a concern, please do not order this item.




Products are provided by a carefully chosen supplier, rather than from the brand itself. The brand does not endorse and is not affiliated with this site.
Other items you might be interested in: