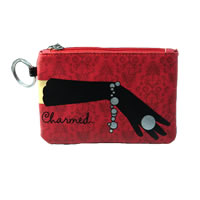 Key Purse Charmed
cul-de-sac
$9.99
$4.99
4.99
More Details
Coin purse with attached key ring perfect for clipping onto your favorite tote.

100% Authentic Guaranteed!

Brand: cul-de-sac

- Key Purse
- Features a whimsical etching printed in black with silver glitter on both the ring and bracelet
- Zip closure
- Silver-tone hardware

Color: Red
Material: 100% PU
Approx. measurements: 3.5"W x 5"L (not including tab & ring)



Products are provided by a carefully chosen supplier, rather than from the brand itself. The brand does not endorse and is not affiliated with this site.
Other items you might be interested in: