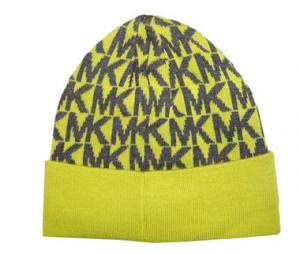 MICHAEL Michael Kors Lemon 'MK' Beanie Hat
Michael Kors
$42.00
$14.99
14.99
More Details
Stay stylish and warm with this cozy logo-knit beanie hat from MICHAEL Michael Kors.

100% Authentic Guaranteed!

Brand: Michael Kors


- Style No: 535339
- Soft, knit MK logo print
- Double-folded cuffed hem
- One size fits most
- Hand Wash

Color: Lemon and Gray
Material: 100% Acrylic
Approx. measurements: One size fits most with the cuff folded down as pictured



Products are provided by a carefully chosen supplier, rather than from the brand itself. The brand does not endorse and is not affiliated with this site.
Other items you might be interested in: