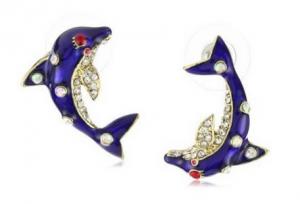 Navy Dolphin Stud Earrings
Betsey Johnson
$3.99
3.99
More Details
Dive into great fashion with fabulous dolphin studs. Betsey Johnson earrings feature playful navy porpoises decorated with sparkling clear and red crystals.

- Style: Stud
- Approximate drop: 1-3/4 inches
- Color: Antique gold-tone mixed metal


Please Note: This is NOT Betsy Johnson, if this is a concern, please do not order this item.

Package: Simple OPP bag


Products are provided by a carefully chosen supplier, rather than from the brand itself. The brand does not endorse and is not affiliated with this site.
Other items you might be interested in: