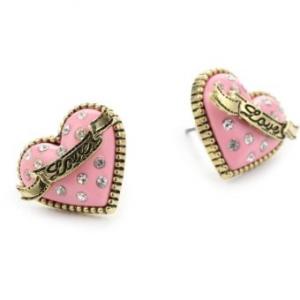 Betsey Johnson "Betsey's Dollhouse" Pink Stud Heart Earrings
Betsey Johnson
$25.00
25.00
More Details
Sorry, we are sold out.

The "Betsey's Dollhouse" Pink Stud Heart Earrings feature the playful signature look of designer Betsey Johnson. Studded with tiny crystals, these pink hearts serve as a colorful backdrop for the word "Love," which is inscribed on antiqued gold-toned metal in the shape of curving ribbons.

Brand: Betsey Johnson

- Antique Gold-tone
- Post back
- Width: 5 inches
- Height: 5 inches

Package: Simple OPP bag


Products are provided by a carefully chosen supplier, rather than from the brand itself. The brand does not endorse and is not affiliated with this site.
Other items you might be interested in: