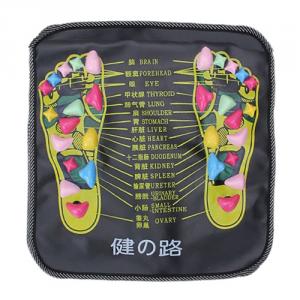 Foot Massage Small Walking Acupressure/Reflexology Mat
YUEWEI
$14.99
$6.99
6.99

The code of health is on your feet!
More Details
A great beginner mat for "cobblestone-mat walking". Use it anywhere!

If you are suffering from lack of energy and stiffness, walking on this mat may unblock energy flows which maintain the balance of health. There are over 7,000 nerve endings in the feet. These nerve endings have interconnections through the spinal cord and brain with all areas of the body.

Exercise improves the health of older adults, yet many conventional exercise programs are difficult to do or unappealing to many people. Mat walking is simple, convenient, readily accessible, and a novel experience for all participants. In the exercise method, also called "cobblestone-mat walking", people walk barefoot on a fixed mat that has a smooth, yet undulated cobblestone-like surface. Cobblestone mat walking is rooted in traditional Chinese holistic medicine and the principles of reflexology, in that the uneven surfaces of the cobblestones stimulate and regulate "acupoints" located on the soles of the feet. Although there is considerable anecdotal evidence indicating the health benefits of cobblestone walking, (e.g., pain relief, sleep enhancement, improved physical and mental well-being), until recently no controlled studies have been undertaken to scientifically evaluate its benefits and efficacy.

- Health Concern: Promotes metabolism and blood circulation
- Stones have been set in advance
- Fold-able and user-friendly
- Mat can be used while sitting
- Approx. Size (L x W): 13.8in x 13.8in / 35cm x 35cm
- Mat Color: Black
- Stone Material: Plastic

How to use the Mat?
1. Please ask for doctor's advice.
2. Step on the plastic stone mat once a day or once every other day, for no more than 20 minutes each time. 10 minutes for elderly and children.
3. When first using, if you have pains in the sole of your feet, you can put a thin blanket on the mat or walk on it with thick socks to ease the pain. Over time, you should be able to walk on it directly, giving your feet the exercise they have been lacking due to shoes.
4. Drink a cup of warm boiled water before and after, which can remove waste materials from the body effectively.

Please Note: Not recommended for users that have symptoms of Hemorrhage. Please refer to the user sheet carefully before use.

Package: Simple OPP bag


Products are provided by a carefully chosen supplier, rather than from the brand itself. The brand does not endorse and is not affiliated with this site.
Other items you might be interested in: