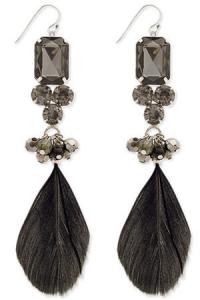 ZAD Crystal, Feather & Bead Dangle Earrings
ZAD
$14.99
$9.99
9.99
More Details
Crystal, Feather & Bead Dangle Earrings In Black

100% Authentic Guaranteed!

Feathers keep popping up everywhere, so much that we deem them the hottest item of the season. These lovely earrings will have your heart a-flutter!

ZAD Jewelry is high quality affordable fashion jewelry. Their jewelry has been featured in Glamour, O & People Magazines, American Idol, Good Morning America and More!


Brand: ZAD

- Silver-tone French hooks
- Approximate Measurements: 4.25"L
- Color: Black
- Composition: Crystal, Resin, Feathersg
- They measure 4.25" long and feature smoky black crystals with resin beads and feather dangle



Lead & Nickel Free Jewelry in compliance with all U.S., State requirements & the CPSIA. ZAD Jewelry is not intended for use by children under 12.


Other items you might be interested in: