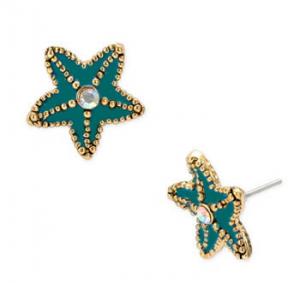 Betsey Johnson Mermaid's Tale Starfish Stud Earrings
Betsey Johnson
$25.00
25.00
More Details
Sorry, we are sold out.

From the Mermaid's Tale collection by Betsey Johnson. These whimsical work-appropriate studs say "I'd rather be at the beach".

Brand: Betsey Johnson

- Antique gold-plating with turquoise green-color starfish and embellished with gold and clear crystal at center
- Post back
- Material: Brass and acrylic
- Color: Gold-tone
- Approximate size: .5" L x .5" W

Package: Simple OPP bag


Products are provided by a carefully chosen supplier, rather than from the brand itself. The brand does not endorse and is not affiliated with this site.
Other items you might be interested in: