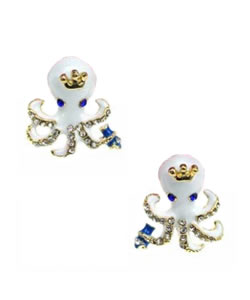 Betsey Johnson Critter Boost Octopus Stud Earrings in White
Betsey Johnson
$30.00
30.00
More Details
Sorry, we are sold out.

Clear out the clutter and make way for the critter! These outstandingly chic octopus earrings will surely boost your style all summer long!

Brand: Betsey Johnson

- Gold-tone with white enamel inlay and rhinestone accents
- Post back
- Width: 3/4 inches
- Height: 7/8 inches

Package: Simple OPP bag


Products are provided by a carefully chosen supplier, rather than from the brand itself. The brand does not endorse and is not affiliated with this site.
Other items you might be interested in: